Do you have home insurance? Most homeowners do, and it's even more likely if you are still paying off a mortgage. As you may know, mortgage lenders require home buyers to purchase a policy to secure a loan. If you have a policy, do you keep up to date with renewals?
Generally, home insurance policies cover damage to your home, whether it's interior or exterior, or theft of your possessions. It might also cover your liabilities if someone gets injured while in your home.
They are typically set-and-forget types of payments. But what if you have made updates to your home, or the market around you has changed?
With Homebot, you will receive a yearly reminder, 90-days befo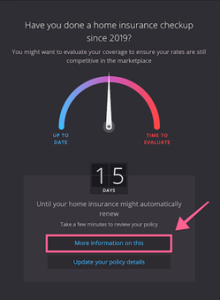 re your policy renews or expires. This reminder will give you time to check in with your policy, and see if there are any better options available before it auto-renews.
To make sure you are on top of your policy, make sure the policy start date or sold date is updated.
If you are unsure what to do or confirm any details of your policy, you can contact us for support. You can also snooze your reminder until next year.