Home Buying Process
A step by step guide
Whether you've spent years saving and preparing to buy a home or have purchased many homes before, understanding the process is always a good place to start.
Maine real estate law is designed to protect both the buyer and the seller, and most transactions can be completed using standard purchase and sale agreements. Regardless of your level of expertise, navigating the process of purchasing a home can often feel like a daunting task, riddled with complexities and uncertainties. Yet, taking the time to acquaint yourself with the fundamental steps involved in buying a first home can significantly alleviate this overwhelming feeling. By understanding the sequence of actions required, you gain a sense of control and assurance right from the outset.
Beauty lies in the consistency. The steps to buying a first home tend to follow a standard framework regardless of your geographical location. While the exact order of completion might vary, the core procedures remain largely uniform. This universality provides a reassuring foundation as you embark on your home buying journey. From exploring financing options to scouring listings, from making offers to conducting inspections, each step contributes to the mosaic of the home buying process.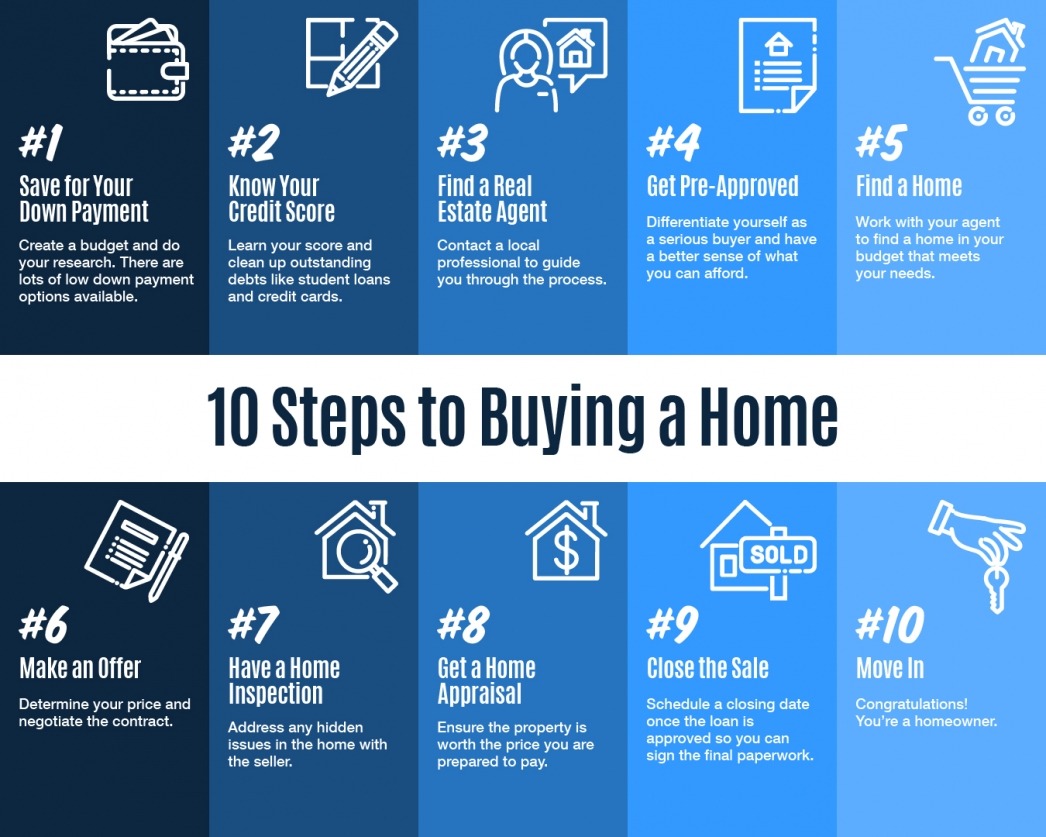 Work with one of the excellent agents at Maine Home Connection, duh! Seriously though, do your research just like you did when selecting a mortgage lender or any other professional. Talk with people you know and trust who bought or sold a home; understand their experiences working with a real-estate agent. Narrow down your options and find an agent who aligns with your needs and preferences – and someone who you feel comfortable.
Once your financial groundwork is set, the next key move is to obtain a mortgage pre-approval before you start searching for properties. This crucial step maintains budget realism and provides the leverage to promptly submit purchase offers. This advantage becomes even more crucial in competitive markets, as pre-approval elevates your desirability, particularly in situations with multiple interested buyers.
With your mortgage pre-approved you're now ready to find your dream home. But finding the right home can take a while, especially if there are fewer houses around for sale, and more demand from buyers. If you want a reasonable price, then you may have to widen your search area or be more patient for the right opportunity.
 In the meantime, it's a good idea to visit as many open houses as you can, to get a feel for the market and what's available. You may get lucky with a seller who doesn't mind lowering the price for a quick sale, i.e., owners who are getting divorced, relocating or renovating another property and need the cash.
Enlisting the help of an agent can shorten this process if you give them a detailed outline of what kind of property you want and what features are non-negotiable, e.g., your top 5 'must-haves.' If an agent has you on their books, they may be able to show you homes that are new to, or not on, the market yet.
You chose a house you love and want to attempt to purchase. Tell your real-estate agent you would like to make an offer. They will run some market analysis on the property to help you submit a fair and robust offer to the seller's agent. Making an offer on the house, then waiting to be accepted, is probably the most stressful part of the process.
 Take heart, even if you don't win the first home you make an offer on, the experience you gain will help you with the next one you find.
Purchase & Sale Agreement
You may receive a counteroffer on your original offer from the sellers. In this case, you will work with your agent to negotiate the final terms of the purchase agreement and final selling price; once both parties agree, it's time to sign a purchase agreement. This is a legal document with all the information about the sale of the property; name of seller & buyer, the final purchase price, the closing date, and other legal details.
Once this is signed, then you can finalize your financing by submitting a refreshed mortgage application to the bank and waiting for it to be approved. You will also get a breakdown of all the other costs, such as insurance or property taxes you'll need to pre-pay.
There will likely be an agreed-upon inspection period in your contract with the seller, so be sure to schedule an inspection with a reputable home inspector in your area to do a thorough investigation of the home. Once the inspection is complete, the inspector will provide you with a list of findings. With this list of findings, you can take the issues as-is or request the seller to address some or all of the findings. Be cognizant of not being too nit-picky on small items, but be careful of potentially significant issues, such as structural issues!
You won't need to do much here, as your mortgage lender will likely take care of this for you. Your mortgage company will want to verify that the loan amount and the value of the home match or the appraised value is higher. Failure to appraise the home can be a trigger to terminate or renegotiate the purchase agreement with the seller.
The significance of this verification cannot be understated. A thorough appraisal safeguards the transaction's integrity. It is this prudent assessment that underpins the stability of the home buying process and preserves the interests of all parties involved.
At this stage you'll be presented with a title commitment from the title company. This commitment serves as a precursor to obtaining a title insurance policy after the closing process. This insurance coverage is designed to shield both you and the lender from unforeseen issues that might affect the property's title. It's a proactive measure that adds an extra layer of security to your investment and the overall transaction. This collaborative effort between you, the title company, and the lender underscores the meticulous attention dedicated to ensuring the integrity of your property transaction.
At this juncture, it's crucial to ensure the timely submission of all requested documents to your lender. This proactive step is aimed at preventing any unnecessary delays in your financing process, thereby facilitating a smooth transition to the closing phase. Your cooperation in promptly providing the necessary paperwork is greatly appreciated and helps to maintain the efficiency of the overall process.
With the finish line in sight, the culmination of the process involves conducting a meticulous final walk-through of the property shortly before the closing date. This stage serves as a comprehensive review, encompassing essential elements such as chattels and the overall state of cleanliness. This discerning examination ensures that all stipulated aspects are in alignment with the agreed-upon terms.
Upon satisfactory completion of this final evaluation, the subsequent step entails the formal signing over of the property deed. This ceremonial act solidifies your ownership and marks the culmination of the intricate home purchasing journey. At this juncture, with pen to paper, you officially step into the role of a proud homeowner.
Allow us to extend our heartfelt congratulations as you embark on this remarkable achievement. Your patience, diligence, and strategic navigation of the process have led you to this gratifying moment – the ownership of your new abode. Here's to your prosperous journey ahead as a homeowner. Congratulations!
Download Our Home Buying Guide
Life is like riding a bicycle. To keep your balance, you must keep moving.